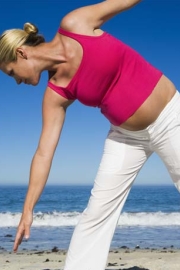 Exercise during pregnancy is an important part of life for many women. But what foods should be eaten for the workout? Your goal is to avoid hunger pangs by having a light meal or snack. You do not want to overindulge in eating and develop abdominal cramping. Whether you work out in the morning, noon or night, try the following tips to lightly fuel the body before exercising, but not overload your system.
Breakfast, Start Your Day Right! Breakfast is simply the most important meal of the day. Your breakfast helps to fuel your brain and body with the energy it needs. You could try a small bowl of fortified cereal with skim milk. A Simple meal like this could provide you with nutrients like:

folate
vitamin B
iron
protein
calcium
phosphorus
magnesium

Not to mention that the fiber in cereals helps keep your digestive system working regularly.
Tips for Lunch Try and go for sandwich breads that contain fiber, such as multi-grain, whole-wheat, bran, or oats. Add some turkey, roast beef, or even simply ham. A bit of lettuce, tomato, as well other vegetables, such as cucumber, red peppers or carrots, for taste and crunch. You could easily pair your sandwich with a small cup of vegetable or lentil soup. Carrots, potatoes, and spinach will provide a variety of vitamins and minerals, and the lentils contain folate and fiber.
Mmmm Dinner For a quick, light meal you could bake, grill, or broil poultry or fish. Round out your meal with rice and beans and perhaps a fruit salad. For another winning dinner, toss cooked pasta with a package of cooked frozen vegetables. Top with you favorite marinara sauce and a sprinkle of Parmesan cheese. Add a mixed green salad with vinaigrette dressing and you have a delicious, flavorful and easy meal.
Healthful Snacks Simply add fresh or canned fruit to low fat ice cream or frozen yogurt with a sprinkle of low fat granola. Try a muffin for a tasty snack with a glass of low fat milk or juice. Go for a small glass of milk and a few cookies, apples slices spread with peanut butter, zesty snack crackers with fruit juice or a trail mix of cereal, raisins, and nuts.
Please note: The information provided on this website is not intended to and do not constitute professional medical advice, diagnosis, or treatment. Always seek the advice of your physician or other qualified health provider with any questions you may have regarding a medical condition. Never disregard professional medical advice or delay in seeking it because of something you have read on this website.