Finding And Choosing The Right Birth Location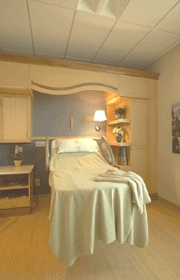 Start looking at what options are available to you for choice of locations as to where you would like to give birth. In some cases you may not have many or even any choices as to where you are going to give birth and other areas you may have a choice of several locations. Where ever you choose to give birth to your baby the most important factor should always remain the same; the safety and well being of your child. So when looking for a suitable location for the birth of your baby be sure to ask the following questions:
What facilities and staff are available?
What is the availability of an anesthesiologist?
How long does it take to respond and perform a cesarean section?
Is a pediatrician available 24 hours a day?
Is the nursery staffed at all times?
Does the hospital have a high risk nursery (ie NICU unit)? If not, how close is the nearest one?
In most hospitals there are three types of maternity room setups, each is different, so lets take a look at them now:
Birthing Room In this situation you will give birth in the room you labor in and then be moved on to a recovery room, where you will remain until the end of your stay.
Labor and Delivery suite This is probably the most common labor room setup. Here you will labor in the labor room and be moved to a birthing room to deliver. After delivery you will be moved to a recovery room or ward where you will remain until the end of your stay.
LDRP (Labor, Delivery, Recovery, Postpartum) This type of room has since evolved as many women don't want to be moved from one room to another. With LDRP you will remain in one room for the entire process, right from labor through to recovery.
Please note: The information provided on this website is not intended to and do not constitute professional medical advice, diagnosis, or treatment. Always seek the advice of your physician or other qualified health provider with any questions you may have regarding a medical condition. Never disregard professional medical advice or delay in seeking it because of something you have read on this website.