Baby Furniture Safety: What Everyone Should Know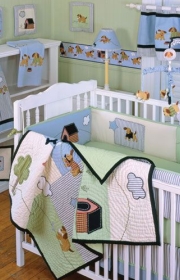 When it comes to buying baby furniture, parents need to use a different eye for detail when it comes to buying baby furniture. Not only should you be looking for color, style, ease of use and comfort – but perhaps safety should be the most vital requirement. Around one in five injuries to children less than 12 months of age involves baby furniture. Remember, even if your baby furniture meets every safety standard and suggestion, your child will still need constant supervision. Lets take a look at some considerations you should taken when looking at baby furniture items.
Cots
The majority of accidents involve the cot and common injuries include falls and getting parts of the body stuck between bars. If you are getting your cot as a hand-me-down, make sure it meets the following requirements:
The bars should be spaced between 50 and 85mm apart.
The cot should have a minimum depth of 600mm from the base of the mattress to the top of the cot when the cot base is in its lowest position.
The gap between the mattress and the cot on all sides should be under 2.5cm.
If the cot has four castors or wheels, at least two of the wheels should be fitted with brakes
When setting up your new or used hand me down cot you should always consider the following:
Don't put the cot close to heaters, windows or power points.
Don't hang anything nearby where there is a danger of the item falling into the cot.
Keep the cot clutter free.
Before your baby can sit up

Remove all mobiles – as babies can strangle themselves with these items.
Put the cot down to the lowest position.
Prams and strollers
Choose a pram or stroller that complies with the following:
A full five-point body harness.
Brakes fitted to at least two wheels.
Sensible storage space, such as a basket slung underneath.
Gap-free interior so the child's fingers and toes can't get caught.
Safety considerations for strollers
To reduce the risk of injury:

Use the safety harness – even for short trips
Don't hang shopping bags from the stroller handles.
Don't allow a child to be left alone sleeping in a pram or stroller.
High chairs
Falling is the most common cause of injury with high chairs. Considerations when buying a high chair include:
A sturdy design that doesn't rock easily
A full body safety harness
A tray that can't be moved by the child.
Safety considerations for high chairs
To reduce the risk of falls from high chairs. Tips include:

Always use the five-point body harness restraint.
Always supervise the child.
Keep the chair away from appliance cords, curtains and anything else the child could grab.
Keep the high chair at least one meter away from kitchen benches and stovetops to avoid the risk of burns and scalds.
Change tables
Babies frequently fall from change tables, in fact around one in four baby furniture related injuries that require hospital treatment involve change tables. A change table should have:
Roll-off protection, such as raised edges
A waist strap
No gaps that could injure fingers or toes.
NB!
Keep one hand on your baby at all times when using a changing table.
Playpens
When buying a playpen remember that children as young as nine months of age can pull themselves up into a standing position, so make sure the playpen is sturdy. Other considerations include:
The playpen should be at least half a meter high.
The bars should be spaced between 50mm and 85mm apart (similar to a cot).
Locks should be inaccessible to the child.
Dangerous furniture
Avoid the following items of baby furniture:
Babywalkers – babies have little control over their direction and speed and can easily overbalance.
Toy boxes with heavy lids – the child might have the strength to open the lid, but not to hold it. Children can be hit on the head or hands with the slamming lid.
Where to get help

Baby furniture manufacturers and retailers
Department of Consumer Affairs in your state
In any emergency, call an ambulance.
Please note: The information provided on this website is not intended to and do not constitute professional medical advice, diagnosis, or treatment. Always seek the advice of your physician or other qualified health provider with any questions you may have regarding a medical condition. Never disregard professional medical advice or delay in seeking it because of something you have read on this website.